What is juvederm treatment?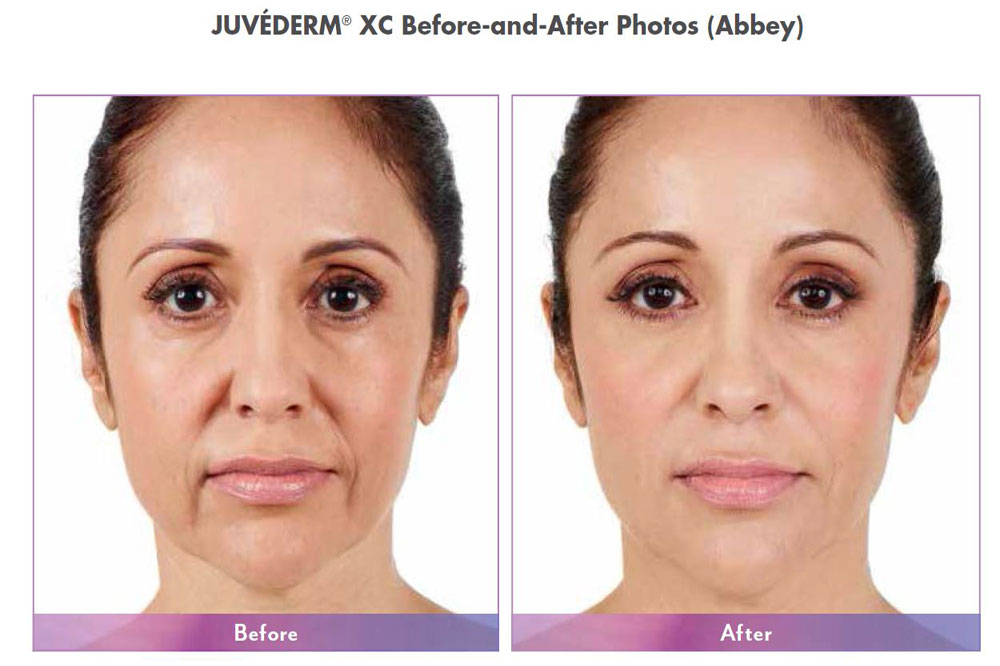 We Crawley Botox clinic are fully authorised by juvederm to provide juvederm treatments.
If you've been wondering about juvederm treatment.  Speak to us for a one-to-one for an in depth discussion or if you prefer.  There are informal open evenings, which allow you to ask and gather information by speaking with women who are considering facial fillers.  Women who have had the juvederm treatment themselves.
WHAT SHOULD YOU EXPECT FROM YOUR FIRST TREATMENT CONSULTATION:
You may be focused on one particular area of your face, or you may just want to know more in general. Either way, your practitioner will take the time to evaluate your face to come up with a personalised juvederm treatment plan.
Our consultat may start with them discussing your specific area of interest. Don't be too surprised if they take a couple of photos to use as tools to point out your unique face structure. This will useful to show how a juvederm facial filler can be used for you. In addition, they may show you pictures of other patients to get a better idea of real life results.
If you decide you want the juvederm treatment, your Crawley Botox practitioner will come up with an tailored treatment plan just for you. They will walk you through the juvederm procedure to get the results you want, and if you are feeling ready, they may even give you your first treatment or will make sure you are booked in for the appropriate appointments.
WHY DO WE SEE OUR EYES VISIBLY CHANGE OVER TIME?
Survey has showed 53
% 
of women worry about how ageing affects their eyes, so you're not alone.
Both our environment and the natural ageing process take a toll on our skin. Some factors, such as smoking and sun exposure can be controlled, but others, like how our skin physically changes, cannot be avoided. So what happens?
Appearance of lines and wrinkles
The skin around the eyes is surrounded by moisturised skin rich with Hyaluronic Acid. With age, our skin cells produce less Hyaluronic Acid, leading to less water being bound within the skin, which dries out losing its elasticity and volume, making it prone to wrinkles as a result of repetitive expressions. Also the dry, thin skin makes cheeks appear droopy. Further, the underlying muscle and bone structure also changes, expanding the hollows around your eyes, adding to a sunken, tired look.
Where did the volume go?
Over time we actually lose a bit of fullness in our forehead, temples, and eye socket; the pocket around your eye, which accentuates these features. The facial skeleton also changes and your eye orbits increase in size, giving the appearance of sunken eyes. As the fullness is lost, your eyebrows start to droop and the skin under your eyes becomes even thinner, with both dark circles and bags appearing.
Many women apply creams to add moisture back to their skin, or cleverly layer on make up to cover up wrinkles. But, if you are looking for a solution that won't wash off – Juvéderm® facial fillers could be for you. Adding volume back into key areas around the eyes with Juvéderm® fillers can give you the refreshed look you want.
HOW TO CHOOSE THE RIGHT ENVIRONMENT TO LEARN MORE:
Would I prefer a male or a female practitioner?
After reviewing a website for a preferred clinic, do I like the examples of the before and after pictures? What other examples do I want to see?
NOW THAT YOU'VE DECIDED TREATMENT, SOME QUESTIONS TO GET YOU STARTED:
What results from treatment am I after?
Is there any specific information that I need to know about the treatment or product?
HOW CAN JUVÉDERM® HELP?
Juvéderm® is a Hyaluronic (HA) facial filler, that replaces lost HA deep within your skin to add volume and smooth lines. Juvéderm® can fill temples to lessen a hollowed appearance around the eye area and give your eyes a more defined frame. Juvéderm® is also excellent at filling deep folds around your eyes to lessen their impact on your appearance. See the results.
Learn from Crawley Botox Clinic why so many women are choosing facial fillers today. Contact Crawley Botox Clinic on 01293 531900